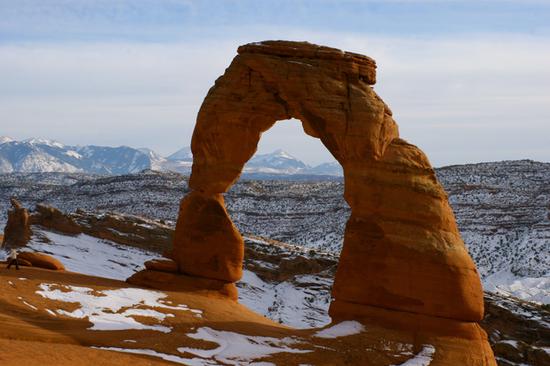 Comment by
Yer Decrepit Cousin Dave
From
Grandville, MI
Bugsy, I love the shots of Arches NP with the snow, like you said before snow really enhances a landscape photo. I was hoping you'd be driving through SE Utah on your way to Durango. If you ever get a spare month, there are certainly worse ways to spend it than exploring southern Utah. IMO this is one of the most scenic sections of the US. I also noticed that you snuck in the back door of Zion NP on your way up to Ogden. Along with your outings to Death Valley NP and Mesa Verde NP you've upped your National Park batting average to 6 of 30. Being the self appointed arbitrator of such matters, I'll even give you credit for Crater Lake NP since you did get pretty close, so now you're 7 of 30 (.233). Also, I realize that you have a million things to do, but for the benefit of us map geeks tracking your progress, is it possible to add a sentence or two of route description when you travel between hosts?
Comment by
bugsy
From
albuquerque, NM
thanks dave. and i can definitely continue talking about routes when i'm driving. i did early on but i guess i kind of forgot of it lately. thanks for keeping in touch
Comment by
Aunt Marcia
From
Shelby, MI
I visited Arches National Park in some very warm weather so it was neat to see pictures of it with snow! It is such a beautiful place! I'm keeping track of your trip through your weekly newsletter--you are definitely having some wonderful, memorable experiences! And I will be watching you on TV on Sunday!
Comment by
Liz
From
Tooele, UT
Beautiful pic of the arch! Moab is gorgeous and would be a good addition to your photo book. Good luck on the rest of your trip! :)